Grieving father called for removal of 'disgusting' game that allows users to play the killer in a school massacre.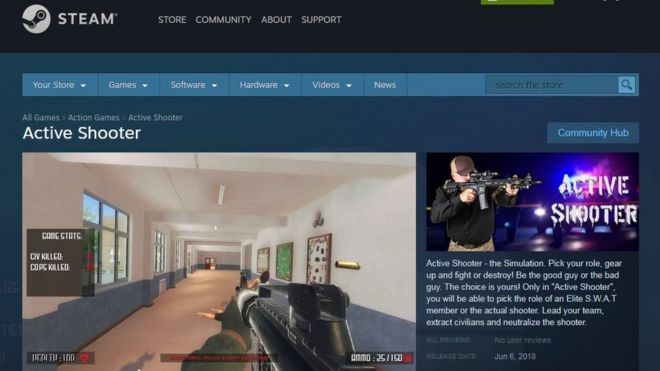 A video game that simulates a school shooting incident has been labelled "disgusting" and "despicable" by parents of children who died during the mass shooting at a school in Parkland, Florida, in February.
Billed by its Russian publisher, Acid, as a swat team simulator, Active Shooter invites players to take on the role of an armed officer responding to a school shooting. However, the game also allows users to play as the shooter or as a civilian attempting to escape the scene.
Using a first-person perspective, similar to shooters such as Call of Duty, Doom and Counter-Strike, the game looks to be entirely set within a school. Screenshots released by the developer and seemingly taken from the perspective of the shooter show swat team officers and students being gunned down in various locations including a gymnasium, corridors and canteen.
The game was set for release on Steam, the largest digital store for PC games with more than 125 million users. It has drawn a barrage of criticism.
Ryan Petty, whose daughter Alaina died in the Parkland shooting, released a statement via Facebook asking people to petition Valve, the company that runs Steam, to remove the game from its service. "It's disgusting that Valve Corp. is trying to profit from the glamorization of tragedies affecting our schools across the country," he wrote.
The father of another Parkland victim, 14-year-old Jaime Guttenberg, has urged consumers to boycott the game in an emotional series of tweets. Fred Guttenberg wrote: "I have seen and heard many horrific things over the past few months since my daughter was the victim of a school shooting and is now dead in real life. This game may be one of the worst."
More criticism
In response to the criticism from parents of real-life school shooting victims, and an online petition opposing its launch which had attracted more than 180,000 signatures,
It also drew the ire of Florida's senior senator Bill Nelson, who called it "inexcusable", adding that the developer should be "ashamed".
Steam's owner, Valve, said it had dropped the game because its developer had a history of bad behaviour.
Valve subsequently emailed the media to say it had taken action ahead of Active Shooter's scheduled 6 June release.
"This developer and publisher is, in fact, a person calling himself Ata Berdiyev, who had previously been removed last fall when he was operating as '[bc]Interactive' and 'Elusive Team'," said Valve in a statement.
"Ata is a troll, with a history of customer abuse, publishing copyrighted material, and user review manipulation.
"His subsequent return under new business names was a fact that came to light as we investigated the controversy around his upcoming title. We are not going to do business with people who act like this towards our customers or Valve.
"Blast children into bloody chunks" = "Bad Sarcasm"
"That was bad sarcasm on my part. Sorry, but English is my third language," it said in a post to Steam's discussion forums, which remains online.
Elsewhere, the publisher accused the media of "twisting its words" and claimed it was "absurd" that people were petitioning for the product to be banned.
In particular, it drew attention to the fact that other mass shooting-themed titles had sold via Steam for several years.
"Games like Hatred, Postal and Carmageddon are literally about mentally unstable people slaying dozens of people," it posted.
"You cannot simply say OK to one and not OK to another."
President Trump is among those who have previously suggested that violence in video games could encourage real-world attacks. But making such a link is controversial and games industry leaders deny there is evidence to support it.
Even so, the organiser of the Change.org campaign against Active Shooter has celebrated a ban in this instance on the grounds that school shootings should not be depicted for entertainment.
"We're all in this together – standing side-by-side with those who have lost family and friends in school shootings," posted Stephanie Robinett.
"We have to do better!"