Foot Locker X Converse team up with young creatives to share inspirational fashion
Footlocker have teamed up with Converse to give young creatives the opportunity to make their own sneakers!
Converse have been one of the most well known footwear brands for decades. Almost everyone can say that they have worn Converse at some point in their life. The uniquely simple appearance of Converse has been a defining characteristic of the brand, allowing wearers to easily incorporate them into their own fashion styles.
Under the slogan 'Made by You' Converse aim to build on this idea of self-expression through fashion and have teamed up with Foot Locker and a select group of individuals to create a limited edition of shoes.
Their latest campaign features videos of four young creatives, each with their own unique fashion style, who have helped create a personalised range of new footwear.
One of the videos features Carlie Barker, an avid Instagramer, artist and model. Her love for 90s fashion and bold outfits has helped her to amass close to 80K followers on Twitter and over half a million on Instagram! In the campaign video she discusses how she uses Instagram not only as a platform to express herself, but a way of life that allows her to meet like-minded individuals. It is this way of life, as well as her personalised Chuck trainers that allow Carlie to express herself as a creative artist.
"This is just a general celebration of people who love to wear their Chuck Taylors. This campaign speaks to us wanting to celebrate self-expression around the world." – Ian Stewart, VP-global marketing at Converse
Since 1908 the Converse shoe label has been producing a variety of lifestyle brand footwear to millions of customers all over the world. Today they manufacture their products under the One Star, Chuck Taylor All Star and Jack Purcell names.
To find out more, check out the video below:

11 Easy Business Outfits to Snaz Up Your Day at the Office
Ready for a new look at the office? Check out these 11 easy Business outfits for some brand new ideas.
Check out this trendy high contrast look from YourFashWorld.
This outfit is an easy stunner because the colors do all the work for you. The simple black pants and accessories are really made into a killer outfit by the classy bright blouse. 
These pieces are probably already in your closet, now you only need to throw them together and walk into work with a smile to top it off.
All this beautiful two piece from HerCanvas needs is a basic tee or colorless blouse to really make an easy stunner. Accessorize accordingly and bam! You're  the most put together, snazy chic in the office.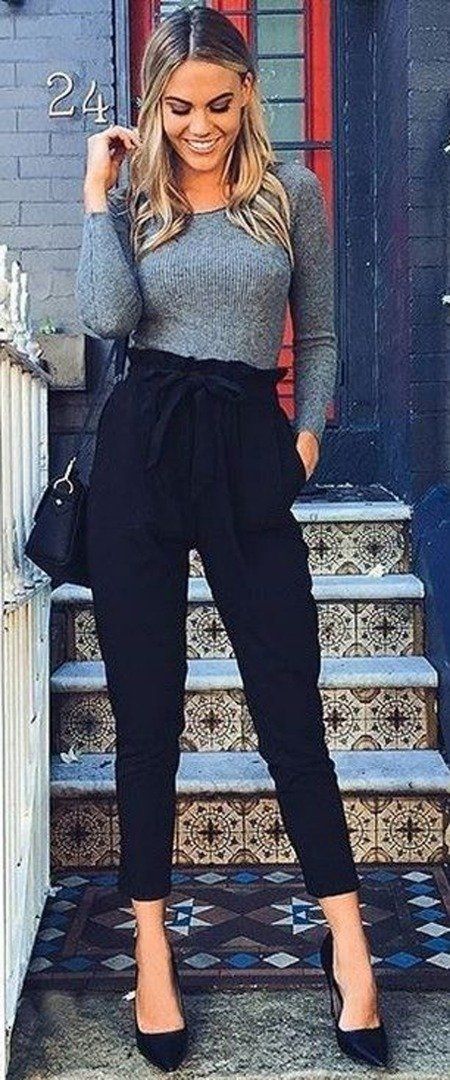 This piece doesn't only look easy and trendy but also very comfy, an important factor for all day wear outfits. Maybe you're having a bad day and just want to wear something easy and super comfy or maybe you're just tired of blouses and suit pieces. Either way, this stunner from HerStyleCode looks comfy enough to wear to bed without looking like you did.
 Need something to look more business? At  TrendWear4You  their 57 Cute Blazer Outfits give so many ideas to help give an easy business boost to your casual wardrobe.
Layer it. Layering is a very easy way to bring more visual interest to your outfit. Be careful not to overdo with accessories, but other than that, you look fab!
Bring in some color
. Beautiful pinks and whites make a lovely outfit for spring or summer.
Add a belt. That's right. You put a beautiful  classy outfit on… now snaz it up a notch with a simple belt. The small things make all the difference, especially when coming to the visual. Don't you just love this look?
Another high contrast, you can't go wrong with basic black. Put it together just right and wow you look so classy and chic without even trying. 
 Talk about it! Here's a daily eye pleaser from nonagaya for you! Simple, easy, and stunning. The beautiful textures of the blouse and tie do everything for you.
Isn't this classy outfit from StylishWife just so pretty? Simple colors, but that skirt and blouse combo just bring easy classy to a whole new level! Those accessories are just perfect. They take the outfit from pretty to stunning in that simple gold/black.
This outfit says "boss lady" like none other. What a gorgeous combination. Not only are the colors great, but the texture of the beautiful dress. Simple, easy, stunning. 
8 Hottest Swimwear Trends To Try This Summer
The temperature is slowly on the rise and eventually, it'll be warm enough to bathe in the sun with your favorite swimsuit. It doesn't matter if you feel you don't have a bikini body. There's no such thing because it's just a matter of choosing a style that flatters your body. Find the right design that will help you unleash your true beauty. There are hordes of new bikini trends that can look great on anyone regardless of their body shape. Take a look at this year's hottest swimwear trends you should definitely try:
1. Off-shoulder tops – From bikini tops to swimsuits, the off-shoulder top is a cute and stylish swimwear trend. With the right mix of delicate and fun, this look can work great no matter what type of body you have. This trend is perfect especially for those who are a bit conservative about showing skin. You can pick a swimsuit that looks more like a romper yet still allows ease of movement in the water. The best part is you can wear a skirt or a pair of shorts over it and it's ready for everyday wear.
Source: Eyval
2. High-rise swimsuits – It's the nineties all over again with Baywatch-style high-rise swimsuits making a comeback. Think low-cut backs and Brazilian cuts flaunting the thigh brow. Also known as the frong, this is easily one of the hottest silhouettes for this year. Instead of a solid color, opt for one in grungy tropical prints or vintage-inspired patterns. This could put a unique and stylish twist to this classic nineties swimwear. Otherwise you could get one in solid red for a Baywatch Halloween costume and simply wrap a sarong over it.
3. Bib-front – This trend is an excellent swimwear choice for those of you who don't like showing too much cleavage. The bib-front swimsuit was another huge trend in the nineties. This year, they're being revived in neutral tones and subdued floral patterns. You can go for either a one-piece or two-piece item implementing this design. When paired with a miniskirt or denim shorts, you transition your beach-ready look into casual wear.
Source: Martin York
4. Mixing prints – Instead of going for a single printed pattern this year, opt for a variety of prints in one swimwear. You can find pieces that use mix-media prints in the latest designs. Otherwise, you could pair pieces from different bikinis and implement this trend. Opt for sets in patterns and colours that complement each other. So you'll end up with varying combinations for a stylish look.
5. Peek-a-boo detailing – Another hot swimwear trend for 2016 is peek-a-boo detailing in the front. Common in a bib-front design, the detailing is in the form of a vertical panel and adds a subtle playful touch to an otherwise conservative look. The peek-a-boo detailing creates the right balance of sensuality and style in one swimsuit. So even if you're not too enthusiastic about showing your cleavage, you can go for one with minimal detailing.
Source: Lyst
6. Seventies crochet – With the seventies making a huge comeback in the fashion world, you can see bits and pieces of the era in swimwear trends. From exquisite detailing to fun multicolour, this trend can be worn in a number of ways. Maybe you could create an evening wear out of your crochet swimsuit by weather a leather miniskirt over it.
7. Lingerie detailing – Instead of just being confined in the bedroom, lingerie detailing is making it big in the swimwear world. You can find plenty of stylish swimwear with sheer panels, scallops, and lace edging, which are popularly used in lingerie. When opting for this trend, however, make sure you pick a material that isn't too delicate. You're going to be wearing it in the water, so think about that part when choosing a piece with linger detailing.
Source: All Women's Talk
8. Unique color-block – Color blocking isn't a fresh trend. It's been a huge part of fashion for years. This year, however, there are new ways of implementing this trend into swimwear. It's no longer just about a two-piece item with different colors on each piece. Instead, color blocking is being reinvented in a whole new way. We see bold placements and unusual patterns implementing color blocking into swimwear.
Here are some of the top trends in swimwear for this year. When picking swimsuits, you need to avoid blindly following the trends. You need to go for a trend that will flatter your body while making you feel comfortable. So it'll take some time to find the perfect piece that you can wear to the beach this year.
4 ways to celebrate your beauty as woman
As women, we have been bought into the belief that we shouldn't celebrate how beautiful we are. But why shouldn't we? Many of us women are not completely happy about the way we look – the grass is always greener as they say.
We are forever complaining about the size of our hips or thighs. But, we should give ourselves a break; there is no such thing as perfection. And of course, true beauty comes from within. It isn't just your outer appearance which makes you beautiful, your intelligence, strength, courage, determination and confidence is what makes you stand out. Take time to celebrate your beautiful self with these ideas:
Photoshoot with friends
A great way to express your inner beauty is by getting a professional photoshoot done with your family. It's a great way to celebrate your own and your families characters. Organise a photography experience with a portrait photographer at the likes of Venture studios and enjoy expressing your beauty with the people you love the most.
Go to the spa
One of the best ways to unwind, rejuvenate and pamper yourself, is of course, a trip to a spa. Go with a family member or friend and spend time relaxing in the Jacuzzi and treat yourself to a couple of treatments. The best way to appreciate how lucky you are is when you are relaxed and feeling content. Going to a spa doesn't have to cost a fortune. There are many deals out there which include using the spas facilities, afternoon tea and a couple of treatments for under £100. Take a look at the likes of Groupon or Wowcher to find a deal. Visiting a spa is a great way to celebrate your beauty both inside and out – remember, you deserve the pampering and too feel good.
Make time to read
When was the last time you read a book? Reading a book is a great way to escape the burdens of everyday life and lose yourself in a story. Take some time every day, before just before you go to bed to read a book or magazine. If you take the time to read every night, it gives you time to yourself and helps you unwind before bed.
Girls' night out
There is little else that makes you feel great about yourself than your best girls commenting on how good you look. So get dressed up in your favourite outfit, do your make-up and hair, and go out for a night on the town with your friends. Whether that be dancing the night away or something a little more low-key like a meal, catching up and laughing with your friends is a great way to feel good about yourself.