3D Holographic Display Technologies that Already Exists
3D holographic technology has been making strides. To date, holographic display technology has gone down in cost, and time required to implement. It has also gone up in terms of availability, consumer interest, quality, and interactivity. From some examples I've seen on YouTube, we've even surpassed the quality and definition of the infamous Star Wars holograms.
3D holographic displays are now more interactive due to third party technologies that record human movement and the dimensions of an environment. Today, holograms can interact with a walking, talking, human being.
In this writer's opinion, there are some key technologies that are going to bring holographics into a whole new world; Microsoft Kinect (or something like it), personal assistants like Siri, M, or Cortana, mobile devices (GPS, identifying users to holograms), CGI 3D animation, and all things augmented reality. You can also check Activ8 90 degree 3D-holo show if you'd like to get more ideas as to what this technology can do.
Let's take a look at some modern examples of real-world 3D holographic display applications.
Tupac is Alive. Sort of. (Coachella Festival 2012)
https://www.youtube.com/watch?v=TGbrFmPBV0Y
This is my favourite example of 3D holographic display for a lot of reasons. The technology used was flawless, with so many moving parts.
This example contains 3D CGI computer graphics meshed with existing audio and video, cutting edge 3D holographic display technology, and a musician whose death was hotly debated in fan circles, similar to that of Andy Kaufman. (Some fans thought the hologram was really Tupac Shakur).
And these types of "holoshows" aren't only reserved for big brands with bigger budgets –they've gone mainstream. From car shows to birthday parties and royal engagements, holographic projection shows are open to everyone.
Holograms in Dubai
https://www.youtube.com/watch?v=5CqUYBopWLs
Dubai is a city known for decadence, so it is only fitting they have a contender on this list. The video above features some quality holographic displays which spanned entire auditoriums. Featuring the likes of tigers, rhinos, dragons, dinosaurs, dolphins, and other majestic creatures people do not get to see very often, this holoshow is one of the greats. Early in the clip there is even a tropical rainstorm, complete with holographic rain clouds and rain drops.
Holoshows illustrate another really interesting thing –we are not all that far from a future that has a Star Trek-like holodeck in it!
Microsoft HoloLens
https://www.youtube.com/watch?v=AMH38h8g9MU
Replacing multiple screens (and adding infinite more screens to your life without the cost) you can interact with online services and rich media or video games on your wall, or you can observe 3D computer generated graphics come alive in your space –or virtually transform it.
This technology is destined to cut down on the amount of physical screens that will be produced, and probably be a good thing for the environment.
Hologram Mannequin
3D holographic display and technology by Activ8 Hologram Events also includes hologram mannequins, which are becoming increasingly popular with retail operations and upscale business complexes.
They serve as concierge and often augment existing infrastructure. Hologram mannequins are also a hit with trade shows for their wow factor and sophistication; they've been proven to increase engagement and how long a booth visitor sticks around.
What Happened To Smart Glasses?
Whether you think smart glasses are cool or creepy, for most people, they're not a part of everyday life. However, AR glasses and headsets appear to have found a niche with manufacturing, military simulations, and even the theater.
Hottest Tech Gift Ideas This Holiday Season
Looking for a simple gift idea that anyone will love and use? Check out these tech gift ideas hot enough to make anyone's holiday a real techno-blast!
For that stylish workout diva in the family,

check out this chic smart bracelet from ringly.com  that includes activity tracking and mobile alerts. Priced at 125 USD this stylish fashion/function piece would make a great addition to her daily outfits, gym to work, work to dinner.
Need a gift for an active reader? Check out this new kindle,
the Oasis E-Reader. Waterproof, sandproof, bigger and better than ever, this kindle has a 7 inch screen and a built in bluetooth for streaming audible books to a speaker (sold separately.) Give the gift of books anytime anywhere. An avid reader will love this awesome kindle wrapped in Holiday colours.
Here is a simple gift for a photo lover,
the HP Sprocket photo printer that prints straight from your phone or tablet onto sticky-backed paper. Sharing your favorite images has never been easier. Go for a chic white and gold for her or a classic black for him.
Want to keep it simple? Try a collection of the most necessary,
a charging cable, portable battery, USB port, and a nice case to knock it off.
Know someone who is always cold? Yep, there's tech for that…
A heated jacket… powered by a hidden USB battery pack these jackets will keep that shivering someone comfy and warm, problem solved. Who wouldn't love a little extra heat in these cold winter months.
We probably all know that person who looses something every time they turn around,
so why not help them out with tile?  This little Bluetooth tracker pairs with the tile app to help find anything from your keys, with the keychain tile, to your wallet, with the slim tile.
School Shooting Video Game Causes Outrage and is Removed
 Grieving father called for removal of 'disgusting' game that allows users to play the killer in a school massacre.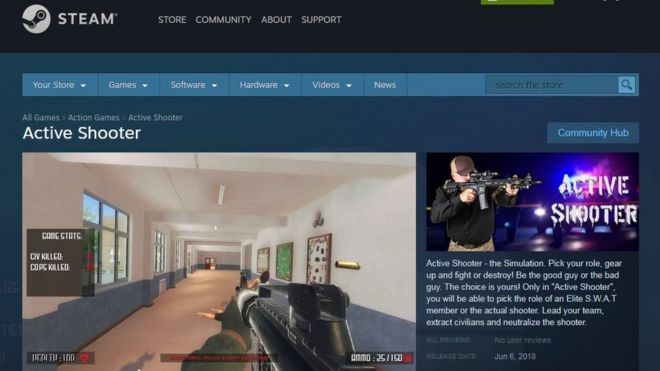 A video game that simulates a school shooting incident has been labelled "disgusting" and "despicable" by parents of children who died during the mass shooting at a school in Parkland, Florida, in February.
Billed by its Russian publisher, Acid, as a swat team simulator, Active Shooter invites players to take on the role of an armed officer responding to a school shooting. However, the game also allows users to play as the shooter or as a civilian attempting to escape the scene.
Using a first-person perspective, similar to shooters such as Call of Duty, Doom and Counter-Strike, the game looks to be entirely set within a school. Screenshots released by the developer and seemingly taken from the perspective of the shooter show swat team officers and students being gunned down in various locations including a gymnasium, corridors and canteen.
The game was set for release on Steam, the largest digital store for PC games with more than 125 million users. It has drawn a barrage of criticism.
Ryan Petty, whose daughter Alaina died in the Parkland shooting, released a statement via Facebook asking people to petition Valve, the company that runs Steam, to remove the game from its service. "It's disgusting that Valve Corp. is trying to profit from the glamorization of tragedies affecting our schools across the country," he wrote.
The father of another Parkland victim, 14-year-old Jaime Guttenberg, has urged consumers to boycott the game in an emotional series of tweets. Fred Guttenberg wrote: "I have seen and heard many horrific things over the past few months since my daughter was the victim of a school shooting and is now dead in real life. This game may be one of the worst."
More criticism
In response to the criticism from parents of real-life school shooting victims, and an online petition opposing its launch which had attracted more than 180,000 signatures,
It also drew the ire of Florida's senior senator Bill Nelson, who called it "inexcusable", adding that the developer should be "ashamed".
Steam's owner, Valve, said it had dropped the game because its developer had a history of bad behaviour.
Valve subsequently emailed the media to say it had taken action ahead of Active Shooter's scheduled 6 June release.
"This developer and publisher is, in fact, a person calling himself Ata Berdiyev, who had previously been removed last fall when he was operating as '[bc]Interactive' and 'Elusive Team'," said Valve in a statement.
"Ata is a troll, with a history of customer abuse, publishing copyrighted material, and user review manipulation.
"His subsequent return under new business names was a fact that came to light as we investigated the controversy around his upcoming title. We are not going to do business with people who act like this towards our customers or Valve.
"Blast children into bloody chunks" = "Bad Sarcasm"
"That was bad sarcasm on my part. Sorry, but English is my third language," it said in a post to Steam's discussion forums, which remains online.
Elsewhere, the publisher accused the media of "twisting its words" and claimed it was "absurd" that people were petitioning for the product to be banned.
In particular, it drew attention to the fact that other mass shooting-themed titles had sold via Steam for several years.
"Games like Hatred, Postal and Carmageddon are literally about mentally unstable people slaying dozens of people," it posted.
"You cannot simply say OK to one and not OK to another."
President Trump is among those who have previously suggested that violence in video games could encourage real-world attacks. But making such a link is controversial and games industry leaders deny there is evidence to support it.
Even so, the organiser of the Change.org campaign against Active Shooter has celebrated a ban in this instance on the grounds that school shootings should not be depicted for entertainment.
"We're all in this together – standing side-by-side with those who have lost family and friends in school shootings," posted Stephanie Robinett.
"We have to do better!"