11 Easy Business Outfits to Snaz Up Your Day at the Office
Ready for a new look at the office? Check out these 11 easy Business outfits for some brand new ideas.
Check out this trendy high contrast look from YourFashWorld.
This outfit is an easy stunner because the colors do all the work for you. The simple black pants and accessories are really made into a killer outfit by the classy bright blouse. 
These pieces are probably already in your closet, now you only need to throw them together and walk into work with a smile to top it off.
All this beautiful two piece from HerCanvas needs is a basic tee or colorless blouse to really make an easy stunner. Accessorize accordingly and bam! You're  the most put together, snazy chic in the office.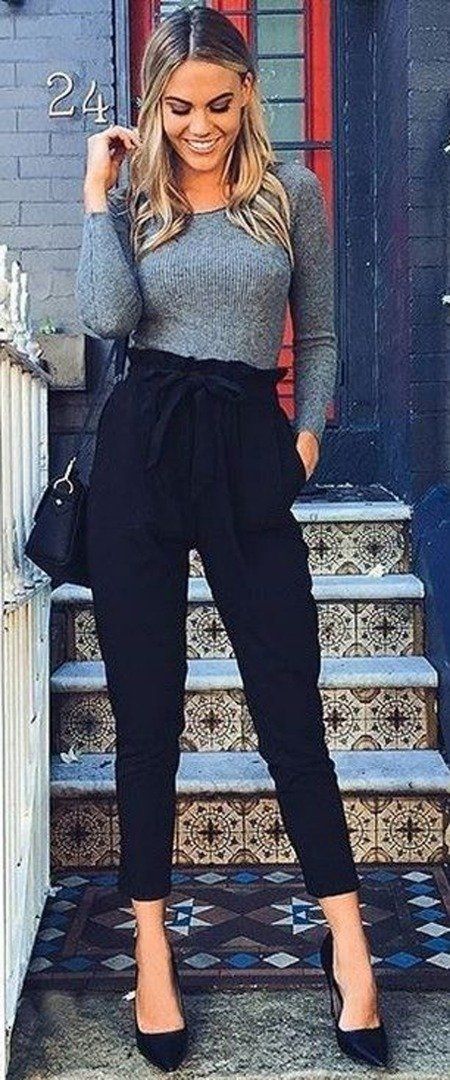 This piece doesn't only look easy and trendy but also very comfy, an important factor for all day wear outfits. Maybe you're having a bad day and just want to wear something easy and super comfy or maybe you're just tired of blouses and suit pieces. Either way, this stunner from HerStyleCode looks comfy enough to wear to bed without looking like you did.
 Need something to look more business? At  TrendWear4You  their 57 Cute Blazer Outfits give so many ideas to help give an easy business boost to your casual wardrobe.
Layer it. Layering is a very easy way to bring more visual interest to your outfit. Be careful not to overdo with accessories, but other than that, you look fab!
Bring in some color
. Beautiful pinks and whites make a lovely outfit for spring or summer.
Add a belt. That's right. You put a beautiful  classy outfit on… now snaz it up a notch with a simple belt. The small things make all the difference, especially when coming to the visual. Don't you just love this look?
Another high contrast, you can't go wrong with basic black. Put it together just right and wow you look so classy and chic without even trying. 
 Talk about it! Here's a daily eye pleaser from nonagaya for you! Simple, easy, and stunning. The beautiful textures of the blouse and tie do everything for you.
Isn't this classy outfit from StylishWife just so pretty? Simple colors, but that skirt and blouse combo just bring easy classy to a whole new level! Those accessories are just perfect. They take the outfit from pretty to stunning in that simple gold/black.
This outfit says "boss lady" like none other. What a gorgeous combination. Not only are the colors great, but the texture of the beautiful dress. Simple, easy, stunning. 
Trump Comments on Stock Market's latest drop – says it's 'peanuts'
Trump says Tuesday's market drop is 'peanuts'
President Donald Trump played down the stock market's losses on Tuesday as "peanuts" when compared with the importance of striking a good deal with China and the gains since his election.
The Dow Jones Industrial Average "was about 16,000 or 15,000 and now it's almost at 30,000," Trump said at the NATO summit in London. "It's going to be at 30,000."
"If the stock market goes up or down — I don't watch the stock market. I watch jobs. Jobs are what I watch," he added. Today's move is "peanuts compared to — we have picked up record numbers so that's OK. That's the way I feel."
The major stock indexes slid Tuesday after Trump said he thinks it would be a good idea to delay signing a trade deal with China after the 2020 presidential election. The Dow Jones Industrial Average fell more than 450 points at its lows on Tuesday, led lower by trade-vulnerable Apple, Caterpillar and 3M.
"In some ways, I like the idea of waiting until after the election for the China deal, but they want to make a deal now, and we will see whether or not the deal is going to be right," Trump told reporters before U.S. markets opened Tuesday. When asked if he had a deal deadline, he added: "I have no deadline, no. … In some ways, I think it is better to wait until after the election if you want to know the truth."
Despite his assurances that he doesn't watch the market's daily moves, Trump often tweets within hours of when the U.S. equity market reaches an all-time high. He has tweeted the keyword "stock market" 107 times since his inauguration
MORE IN BUSINESS
11 kids quotes we're all feeling
Ok so there's always that time when you just wish so bad you could straight up say whats on your mind, but you know you really shouldn't, so you don't. Well leave it up to kids to say exactly what you're feeling, no hesitation or regret. Check out these kids quotes that say everything you wish you could!
Why do kids say the darndest things? Comment with your favorite!
How to become a better businessman in 6 steps; Priceless advice from Entrepreneurs
Become a better businessman in 6 steps following this priceless advice from accomplished entrepreneurs.